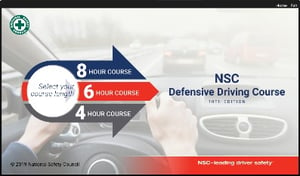 The National Safety Council Defensive Driving Course, recognized for its leading edge curriculum, delivers the most compelling and proven-effective defensive driving and collision prevention strategies.
The NEW 10th edition is a 3-in-1 driver safety program providing instructors the flexibility to teach the course in 8-, 6- or 4-hours.
If you are a current DDC 4 or DDC 8/6 Training Center and have questions related to or are ready to transition to the new DDC 10th edition do not submit this form. Please call (800) 621-6244 or contact your affiliated NSC Chapter. You may find more details and transition forms at nsc.org/DDC/10TC for your convenience.

Fill out this form to request more information to learn more about becoming a certified NSC Instructor.