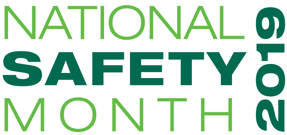 Thank you for your interest in National Safety Month! Sign up now and you'll receive a link to our free downloadable safety materials as soon as they are available this spring. You can help spread important messages to coworkers, family and friends on the following weekly safety topics:
Week 1: Hazard Recognition
Week 2: Slips,Trips and Falls
Week 3: Fatigue
Week 4: Impairment
National Safety Council Members: No need to sign up. You will automatically receive all this information PLUS member exclusive Safety Videos, 5-Minute Safety Talks, Webinars, Tip Sheets and more, created for our members to educate and engage your workforce during NSM. Keep an eye on your inbox for a preview starting in May!
Not a member of the National Safety Council? Members get much more! Join now and get much more during National Safety Month!
After sign-up, you will receive an email from feedback@nsc.org with a link that confirms we received your request. If you do not receive the email within a few minutes, first check your junk mail folder or email us at feedback@nsc.org. Sometimes our emails get blocked or caught by your spam filter. Remember to add this email address to your safe sender list through your email provider to avoid updates being blocked or going to your junk mail.