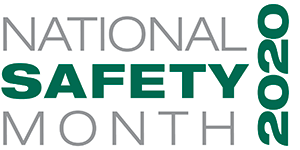 Get ready for National Safety Month! Given the current state of the world, the month will look a little different than past years. Sign up now and we'll notify you when materials are ready. You'll get free access to our poster, tip sheets and more to help spread safety messages on pressing topics, including:
Mental health
Ergonomics
Building a safety culture
Driving, and more
National Safety Council Members: No need to sign up. You will automatically receive all this information PLUS member-exclusive Safety Videos, 5-Minute Safety Talks, Webinars and more. Keep an eye on your inbox for your materials soon!
Not a member of the National Safety Council? Members get much more! Join now and get much more during National Safety Month!